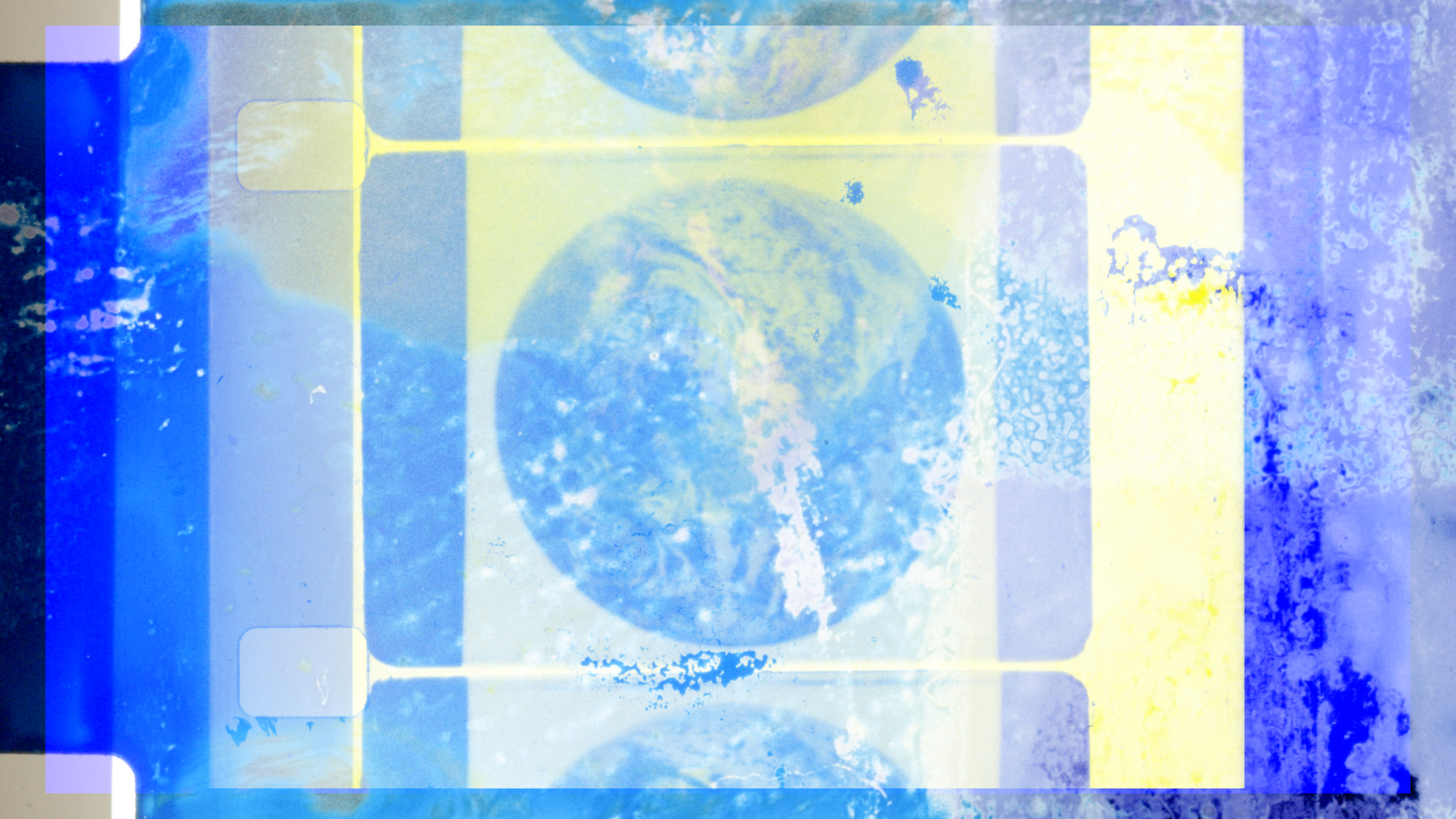 lip-flap: Laura Phillips, Greg Pope, Vicky Smith
Oslo Public Library, Grünerløkka (Deichman Grünerløkka), Schous Plass 10, 0552 Oslo
Thursday 21 April 2022
19:00-21:00
FREE & OPEN TO ALL (snacks & refreshments provided)
Open Forum welcomes you to lip-flap, a special screening event of three British photochemical artist filmmakers held at Deichman Grünerløkka in Oslo.
Laura, Greg, & Vicky will each screen a few of their 16mm works, highlighting their individual relationships to sound & their methods for incorporating it into their 16mm film work either via listening, collaborating, or dissonance.
Finding a way to synchronise visual & audio tracks was essential to traditional filmmaking because film stock reacts to light, not sound. "lip-flap" refers to a failure in audio-visual synchronisation. Taking this idea of dissonance & extending this to serendipitous surprises, we speculate spaces of vulnerabilities, disquieting & bodily matter of the films on show. This programme demonstrates works that are made in collaboration with a plethora of sound artists, poets & noise makers (Sam Illingworth, Mark Vernon, Matt Davies, Shirley Pegna & Melanie Clifford).
Program (not in running order):
Laura:
Chapter One: Visualising Nature: Phylum Porifera (2022)
HD film 1min 39 sec & sound - Premier screening!
A film poem - Primarily made on 16mm film then scanned & digitally manipulated, creating a hybrid digital/photochemical media. Its impetus stems from research published recently in Current Biology in which observations from the deep Arctic Sea suggest some sponges are not sessile & can move as evidenced by spiney trails along the seabed.
Sam Illingworth is heard narrating his poem Spongey Trails (2021), which is also inspired by the same research. The poem is central to the soundtrack but is also overlaid with rhythmic deep pulses evocative of Sonar, but are are modified samples from a Bell and Howel 16mm projector which are reprinted & lowered in frequency near to infrasound (20hz) i.e. just audible or near the threshold of human hearing. Using the projector as the source prompts a self-reflexive and structuralist approach to the soundtrack as a way to explore the tools & infrastructure which make the medium of film.
Phantom Secure (2022)
11min performance with 16mm film & HD projector.
New work in progress….The title of this performance takes its name from a defunct company that provided modified secure/encrypted mobile phones. This work is an exercise in visualisation of cellular network towers which are used within 5g transmission in the UK. A visual portrait of street furniture/architecture & the varieties of form within different cell sites. Images intersect, overlap; this work interweaves diegetic sounds & ASMR. A historical echo to the affective labour of telephone switchboard operators or rhetorical questioning of virtual assistants such as Amazon Alexa. What happens to objects that listen? What has happened to our data? our labour? our privacy?
His and Hers and the Sun (2022)
4min hd digital with sound.
An abstracted 16mm film made with Orwo UN54 16mm film, hand developed & then overlaid with cameraless filmmaking techniques using washi tape & cyanotype. The recurring motifs of the Blue Marble photo & water draining in a sink with the multiple layering of images can be seen as a reflexive statement about the processing of filmmaking & a playful visual pun about water detritus & waste management. The soundtrack was made by Mark Vernon, a sound artist who works with tactility & intimacy of radio, known for his recycling of field recordings & obsolete media. Both the soundscore & visuals use repetitive rhythms to simulate cyclical systems, beit the water cycles, refuge cycles or ways of looking.

Greg:
It Goes Without Saying
25 min performance with sound & moving image.
The work is based on a text/poem of the same title. Images are superimposed from two 16mm projectors: During the performance the projections create a flow of repeating actions: creating & uncreating, writing & erasure, colour & blackness. The piece includes a live reading of the complete poem/text intermittently, in six sections, over the course of the performance. The accompanying soundscape is created live by the performer with cassette machines, percussive machines, contact mics, guitar pickups, loop machine & amplified stone percussion.
Vicky:
Not (a) part (2019)
16mm hand processed B&W, animation / live action, 6 min. Supported by The Brigstow Institute.
Not (a) part was conceived in relation to both the rapid decline of flying insects & the high recurrence of animation, handmade or contact film that works with the subject &/or material of flying insects. Numerous dead bees found on walks were positioned directly onto negative film & contact printed. Occupying approximately 24 frames they run at a rate of 1 bee per second. The length of the film is determined by how many specimens are found over a specified period of time. The project addresses the decline of flying insects globally & it focuses this problem through individual found corpses of bees which are dissected & placed, much as Stan Brakhage did with Mothlight, directly onto 16mm film. The stock is processed in BEEF darkroom using caffenol. The discovery & effective use of caffenol as a less toxic developer than the other stuff is reason 1 for feeling okay about using celluloid film once more.
Re:exposure (2020)
16mm hand processed B&W, animation / live action, 10 min. Part-funded by Arnolfini.
The film is a reflection on exposure, & on change, of skin to sun and of film to light, & the environmental, social & hereditary factors that impact the ageing process. My mother & I share spoken memories about summer & change, in social customs, & to the climate. The DIY analogue film processing method gives this material a burnt brown look, while the inclusion of 'mistakes', such as fogged & scratched sections, emphasise the sense of exposure & damage to skin & to film material'.
---
Laura Phillips, b.1986 Bristol, is a Sagittarius, non-smoking artist who lives & works between Bedminster, South Bristol and Southmead, North Bristol. Her work explores obsolescence & collective histories using a mixture of photochemical processes, sounds & digital imagery. Working at the intersection of visual-music, expanded film & performance she is interested in the ideas of the commons, ecology & information infrastructures. Her work has been acquired by the Arts Council England Collection, & previously screened at International Film Festival Rotterdam (2020); Supernormal Festival (2019) Oxfordshire; NAWR at BBC Studios Swansea (2019); & Arnolfini (2019/20), Bristol. She makes films & plays waterphone in the audio-visual project Viridian Ensemble, who perform live improvised music & images. Their recent releases include The Prelude commission for The Quietus & Aerial Festival 2020.
https://lauraphillips86.co.uk/
-
After dabbling in punk rock bands & absurdist performance, Greg Pope founded film collective 'Situation Cinema' (Brighton 1986) & 'Loophole Cinema' (London, 1989). Working collaboratively & individually, Pope has made installations, live art & single screen film works since 1996. These works include live cinema performance pieces as well as 35mm film productions, text-based percussion & slide projection performances. He has collaborated with numerous film & sound artists as well as presenting solo & screening retrospectives at festivals & events in Europe, North & South America & Australia.
-
Vicky Smith's work in experimental animation explores the vulnerable & vital body. Her work screens internationally, in galleries & festivals including in 2021: 'A Picture of Health' at Arnolfini Gallery, Bristol; 'Raw Vision' in Splash, Scratch, Dunk! Films Made by Hand at London Barbican & 'Bodies and Boundaries', Cinenova UK. She runs workshops in experimental film practice including at UWE, Arnolfini, BEEF & Lux, & has curated many film screenings, including recently Go, Go, Go! Women in Experimental Animation (2019). Publications include: Hand Drawn and Non-Natural Colour in Films by Barbara Hammer & Sandra Lahire in Animation Studies Online (2021); Experimental & Expanded Animation: Current Perspectives & Practices, co-edited with Nicky Hamlyn (2018) & in Animation Practice, Production & Process issue 7 (2019).
-
Open Forum is a student-run initiative from the Academy of Fine Art in Oslo that facilitates lectures, talks & other live events within fluid settings.
Image: Laura Phillips, His and Hers and the Sun (2022), production still